Springbank
At Springbank we pride ourselves on producing a single malt that is made entirely in-house, employing traditional skills that have been passed down from one generation to the next. Produced since 1828, Springbank Single Malts are lightly peated in our kiln and distilled 2.5 times.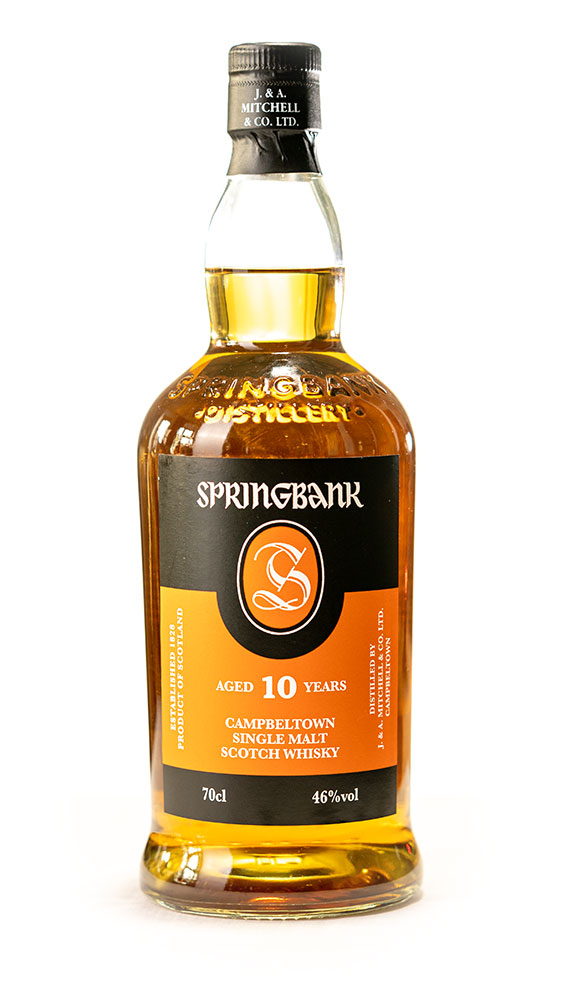 Springbank 10
Our 10 year old provides the perfect introduction to the Springbank range. Matured in a combination of bourbon and sherry casks, it is complex yet perfectly balanced from the first sip through to the sweet, salty finish.
46% ABV
60% Bourbon, 40% Sherry
Our Price: £52.00
Nose
A vibrant cereal note introduces our flagship Springbank dram, along with notes of gooseberries, mango, vanilla pods, grapes and honeycomb.
Palate
The fruit and cereal notes carry through to the palate in hints of oatmeal, malted barley and orange pulp. Heather honey, hard toffee, nutmeg and cinnamon notes develop.
Finish
A characteristic sea salt note rounds off this dram.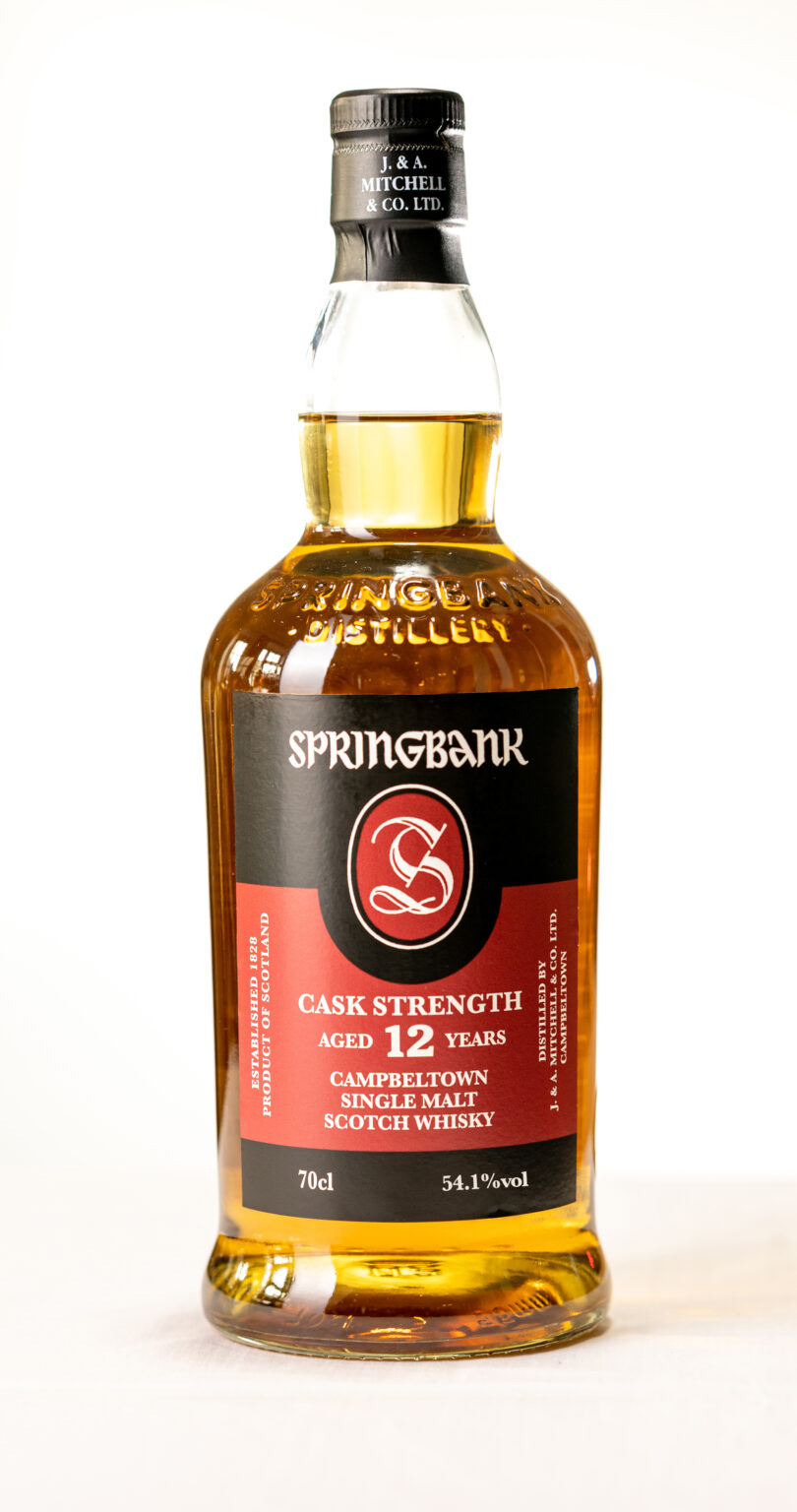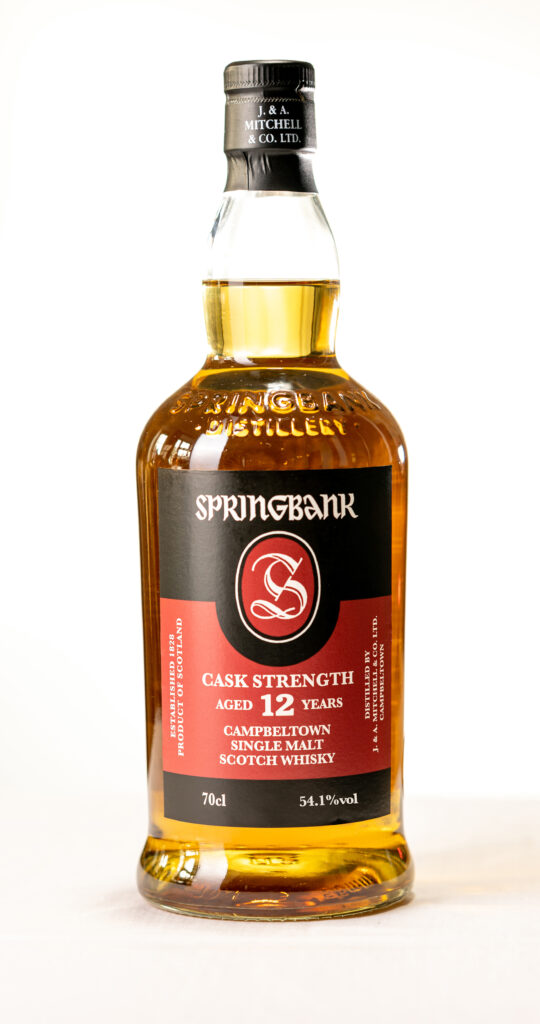 Springbank 12 Cask Strength
2023 Edition
54.1% ABV
60% Bourbon, 40% Sherry 
Our Price: £68.00
Nose
Toffee apple sweetness kicks off this cask strength whisky, along with notes of parma ham, hazelnut and marzipan.
Palate
The palate introduces soft peat smoke and notes of morello cherries and aniseed, accompanied by a creamy mouthfeel reminiscent of custard creams.
Finish
The coastal influence emerges in the finish in notes of brine, oil and salted caramel, along with the endurance of the peat smoke.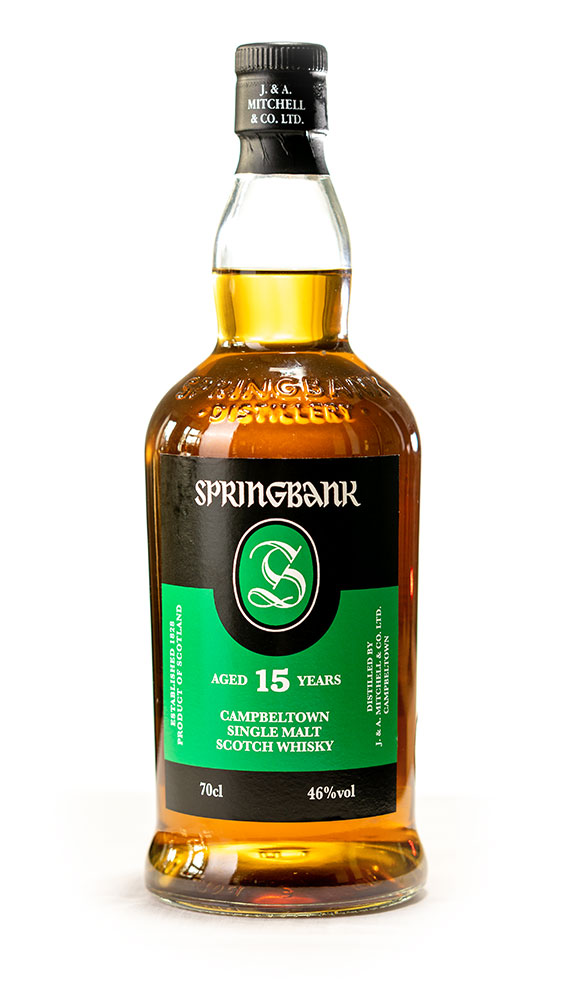 Springbank 15
Like a storm gathering off the Kintyre coast, our 15 year old Springbank is dark and ominous, but delicious. Best enjoyed after dinner or with your favourite cigar, this is a true classic.
46% ABV
100% Sherry
Our Price: £72.00
Nose
Springbank's gentle giant. This dram is big and bold with notes of cured meat, barbecued beef jerky, clove, mint, iodine, oxo cube and tinned prunes all evident from the Oloroso cask maturation, while lobster creels hint at Springbank's characteristic maritime influence.
Palate
The peaty character is now evident with sooty kiln smoke and tobacco leaves prominent in this viscous tipple alongside prunes, walnuts, figs, Demerara sugar, cocoa powder and smoked meats.
Finish
The finish grows and develops with notes of soot, leather and walnuts prominent before easing off like the ebbing tide over one of Kintyre's pebble beaches.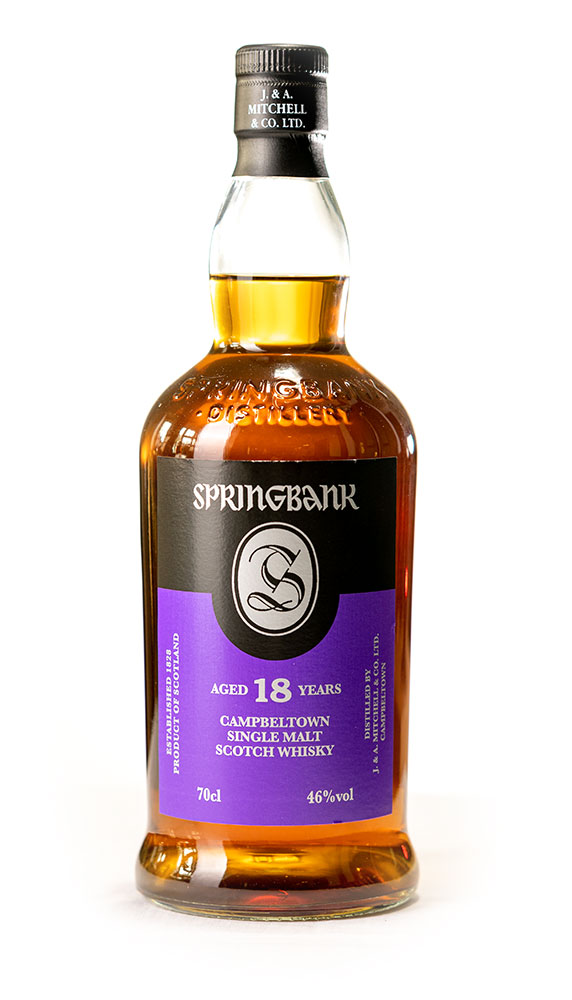 Springbank 18
2023 Edition
Our 18 year old is full of authority and is a classic, full-bodied dram. With a delicious nose, this whisky will tempt you in and hold your attention as you uncover its unique palate and finish.
46% ABV
65% Sherry, 15% Rum, 20% Bourbon
Our Price: £110.00
Nose
The sherry influence is immediately apparent on the nose, with notes of medjool dates, raisins and demerara sugar. Notes of blueberry, fondant icing, lemon drizzle and fig jam provide a welcoming introduction to this dram.
Palate
There is a creaminess on the palate with notes of cappucinno foam and tiramisu. Muddled strawberries, Christmas cake, marzipan and cinnamon notes add to this well-rounded dram.
Finish
A sweet and juicy finish with notes of syrup and sugared shortbread.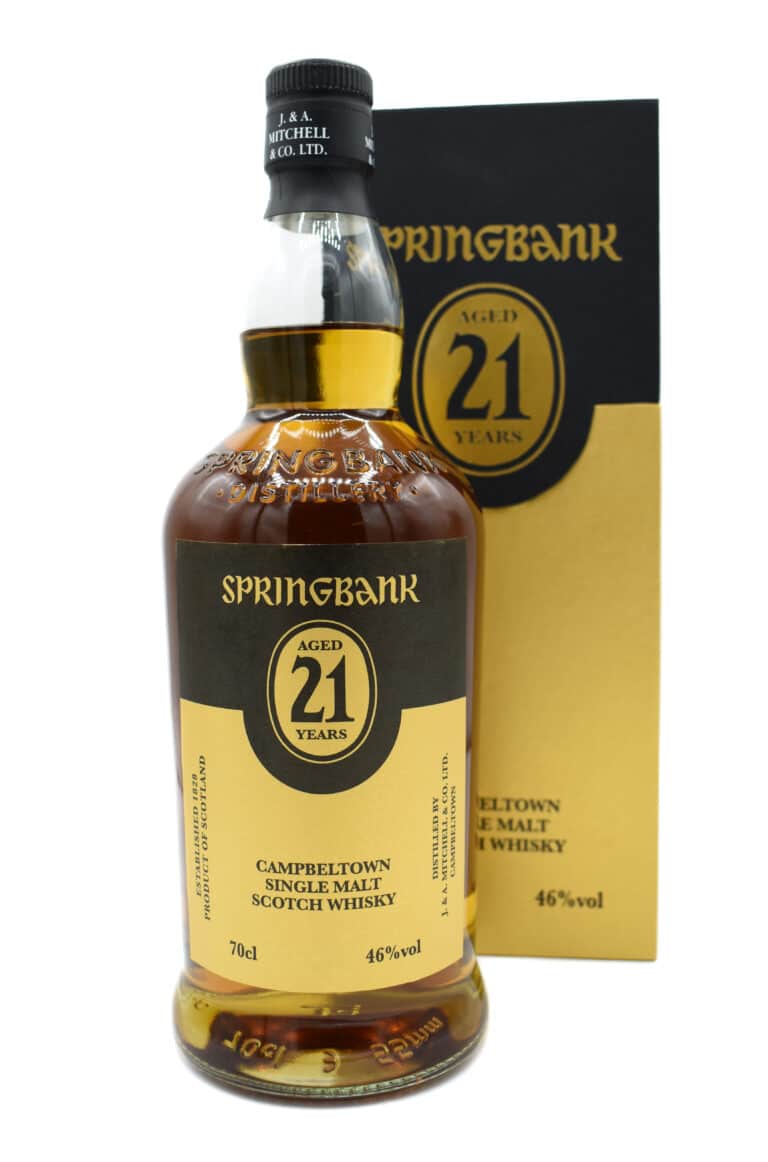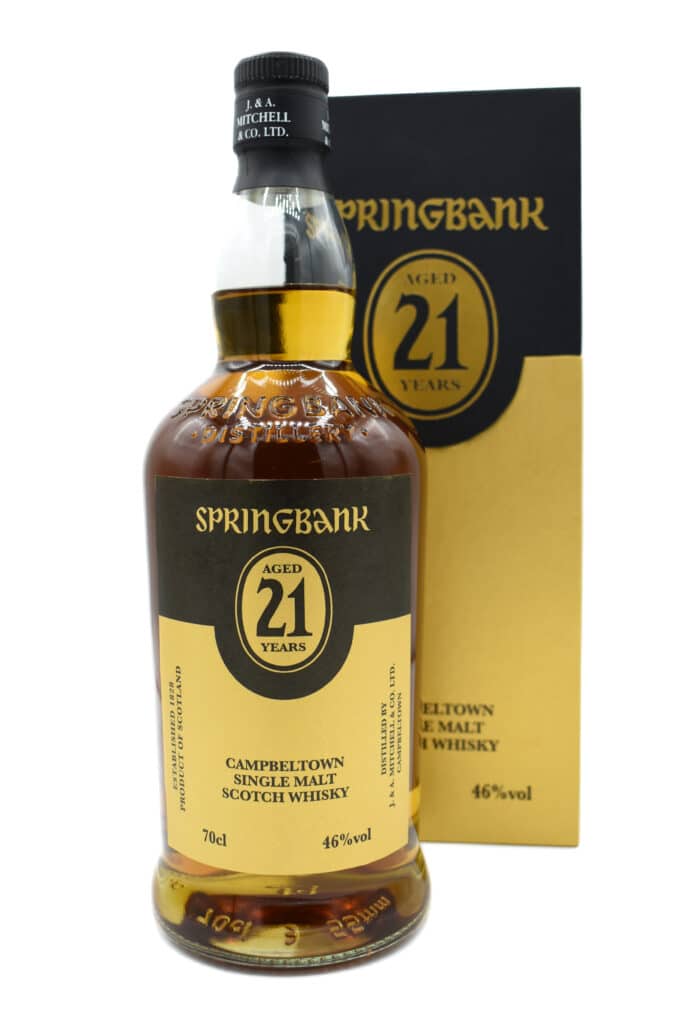 Springbank 21
2023 Edition
With its warm, golden glow, our 21 year old is inviting, creamy and offers unbelievable complexity. The maritime influence uncovered in this single malt will take you on a journey to its Campbeltown home.
46% ABV
45% Bourbon, 20% Rum, 20% Sherry, 15% Port
Our Price: £250.00
Nose
Notes of citrus zest, pineapple upside-down cake and fudge introduce this year's Springbank 21 year old. There is a savoury element in the notes of baked gam and tomato vine leaves, with subtle peat smoke coming through on the nose.
Palate
A tropical influence comes through on the palate in the notes of ripe mango, dried coconut and papaya, opening up to notes of liquorice, cola syrup, digestive biscuits, honey and a slight earthiness.
Finish
A long finish with notes of orange zest, campfire embers and caramel.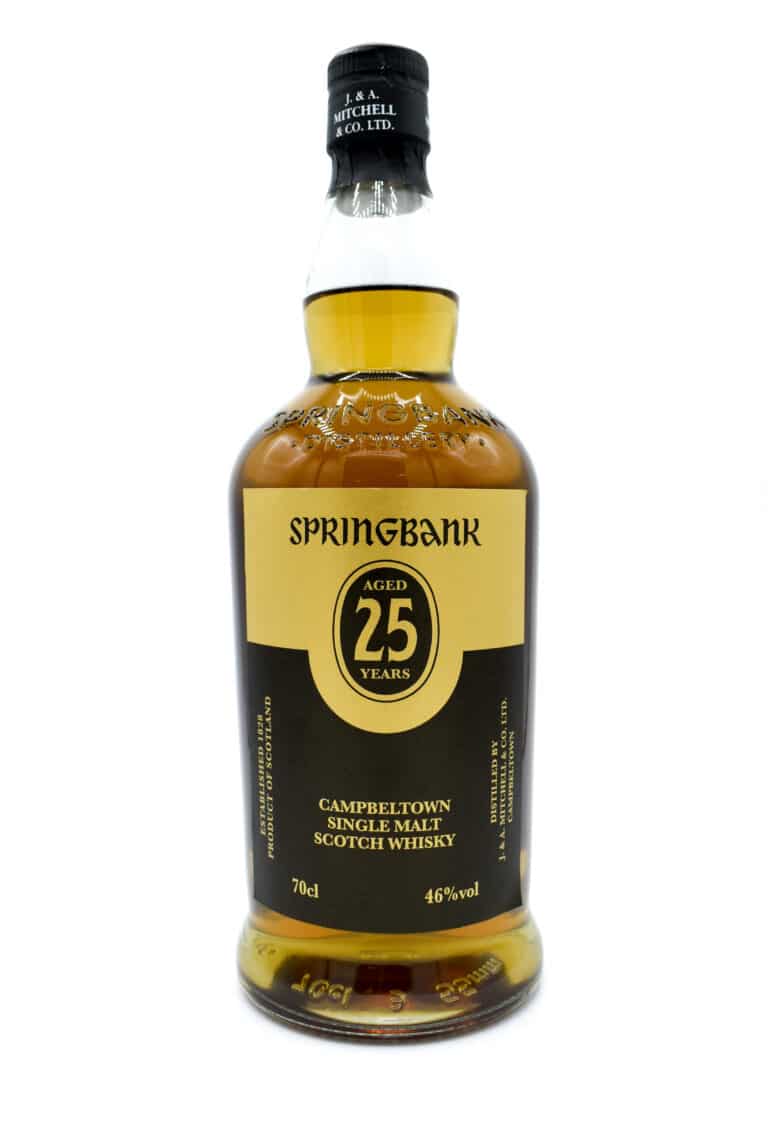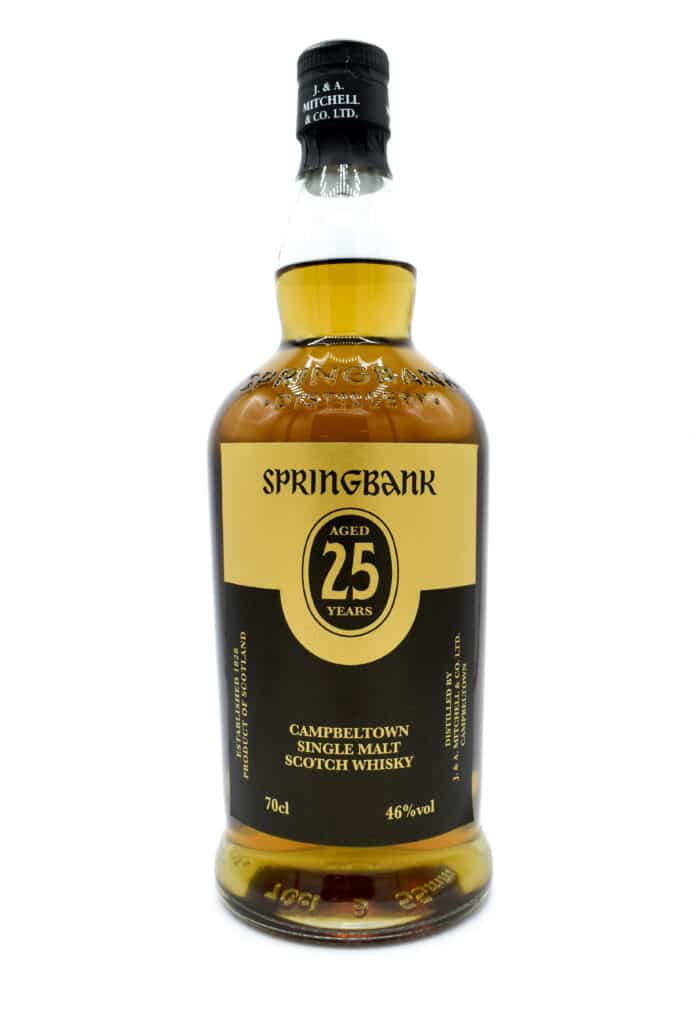 Springbank 25
2023 Edition
An annual release, our most recent edition of the 25 year old was bottled in December 2022, with only 1400 bottles of the highly sought-after release available.
46% ABV
50% Refill Bourbon, 50% Refill Sherry
1,400 Bottle Worldwide
Our Price: £500.00
Nose
A sweet, inviting introduction to this dram, there are notes of caramel and millionaire shortbread, dried pineapple and honeydew melon.
Palate
The palate is gentle and refined with a smooth, buttery feel. There are touches of gingerbread and liquorice, along with a note of coffee grounds hinting at a slight woody element
Finish
The emergence of peat smoke in the finish rounds off this dram.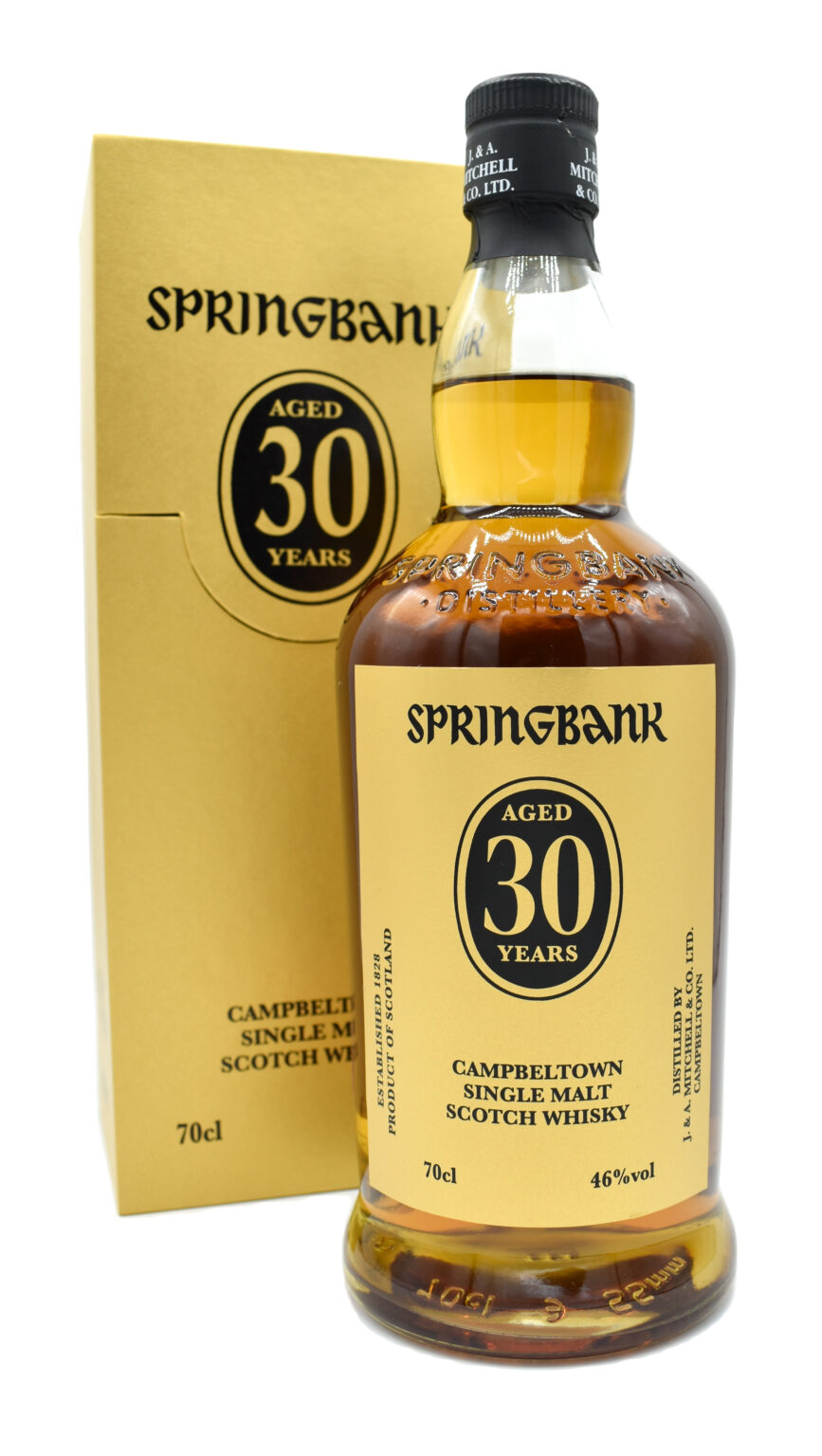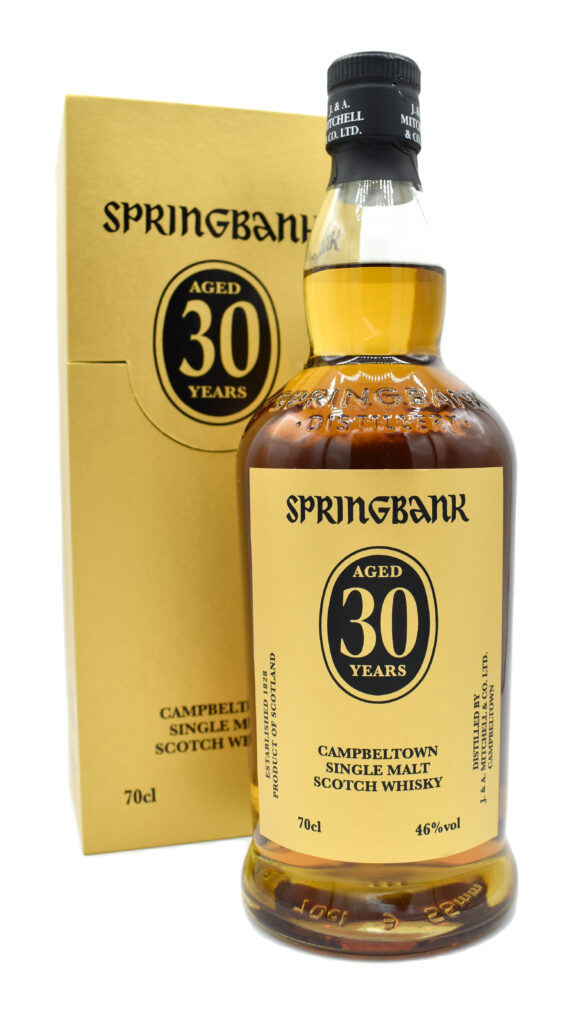 Springbank 30yo
2023 Edition
46% ABV
80% Bourbon, 20% Sherry
Our Price: £850.00
Nose
We are welcomed into this dram with a characteristically fruity nose in notes of baked pineapple, peach and upside down cake. There are hints of serrano ham, honey and peat smoke from the outset.
Palate
Light and delicate on the palate, the fruit notes continue and a waxy element is introduced. There is a creamy, buttery mouthfeel reminiscent of brandy butter, and notes of parma violets.
Finish
Dry in the finish, there are notes of raisins and mixed peel to round off this dram.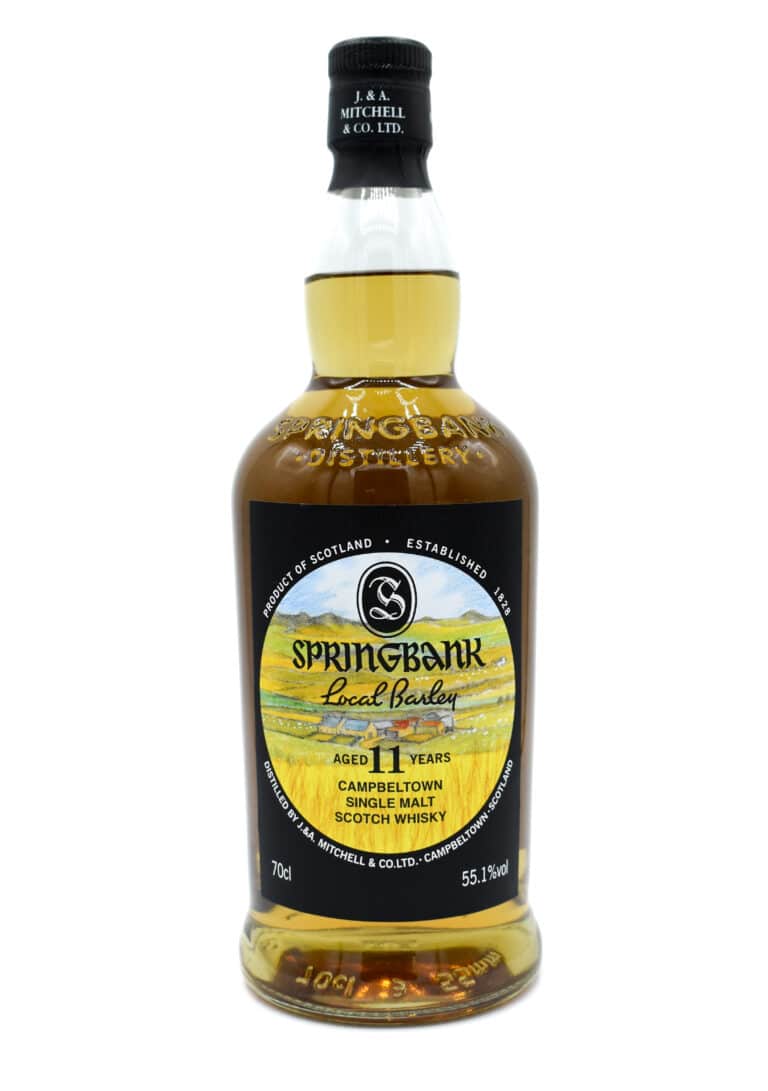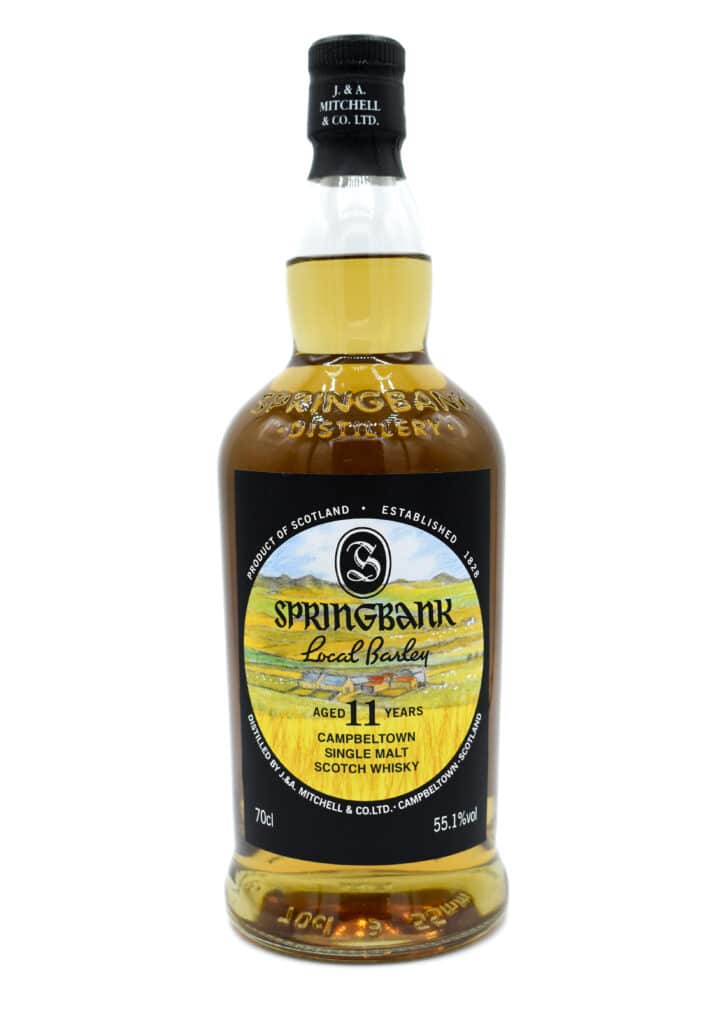 Springbank Local Barley
2023 Edition
The Local Barley is an annual release made from barley grown in or around Campbeltown. Each year a local farmer is commissioned to grow barley on our behalf to continue producing this 'grain to glass' limited edition.
Different farms, barley varieties, cask maturations and length of time the whisky spends in the casks from one batch to the next allow our customers a unique tasting experience every time.
55.1%
Farm: Glencraigs, by Campbeltown
Barley Variety: Belgravia
55% Sherry, 35% Bourbon, 10% Rum
15,000 Bottles Worldwide
Our Price: £100.00
Nose
Characteristically fruity from the outset, there are notes of papaya, mango and lemon on the nose, along with a subtle floral note.
Palate
The citrus element continues on the palate, combined with notes of manuka honey and pear drops. A salty, mineral note develops over time.
Finish
Soft peat smoke comes through in the finish to round off this dram.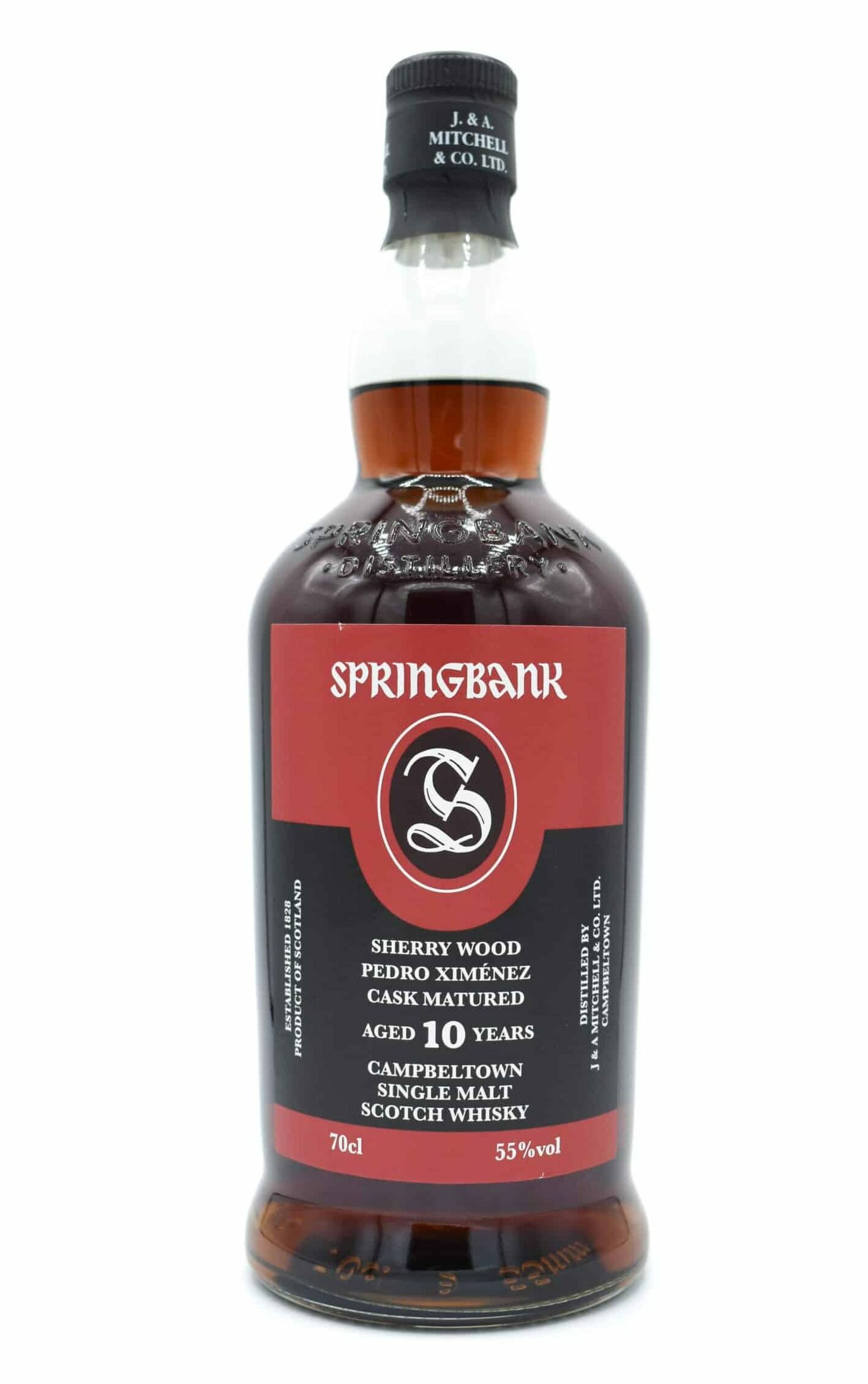 Springbank PX 10Y/O
2022 Edition
55% ABV
Kicking off our Springbank Sherry series is this 10 year old whisky matured for seven years in Bourbon casks and three years in fresh Pedro Ximenez casks. The Springbank character married with the sweet, rich PX influence creates a perfect winter-warmer dram.
Our Price: £90.00
Nose
An unmistakable Sherry influence presents itself from the beginning, with rich notes of date syrup and raisins kicking off this full-bodied dram.
Palate
A tannic, spicy element is introduced in the palate, along with notes of cola cubes, cherry menthol, cinnamon and caramel. The typical Springbank characteristics hold their own against the heavy PX influence in an apparent oiliness and damp, dunnage note.
Finish
The tannic element continues through to the finish, and PX qualities come to the forefront in notes of sultanas and rich spices.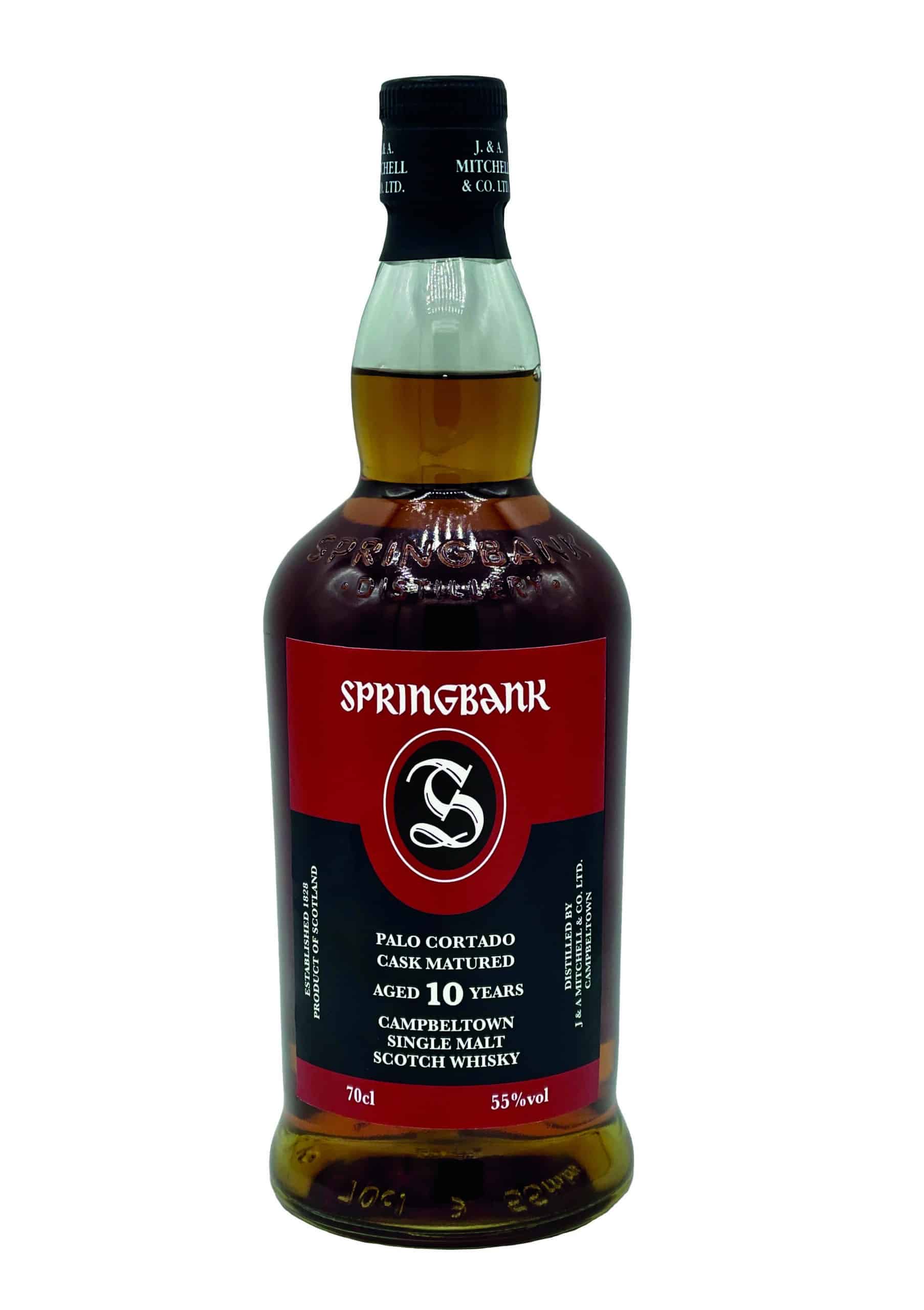 Springbank Palo Cortado 10yo
2023 Edition
55% ABV
10,200 Bottles Worldwide
Second in our five-part Sherry Wood Series, this whisky has been matured for six years in Bourbon casks followed by 4 years in Palo Cortado Sherry hogsheads made from spanish oak.
Our Price: £90.00
Nose
There are notes of parma violets, buttercream icing and peaches on the nose, along with hints of cola and grated ginger.
Palate
Soft peat smoke comes through on the palate, complemented by notes of red velvet cake, strawberry laces and icing sugar.
Finish
There is a waxiness in the finish with notes of orange rind and the continuation of the peat smoke.