Springbank 28yo Tasting Pack
---
Springbank 8yo Fresh Oloroso 57.3%
On the 7th and 8th of June we are running ballots for a Springbank 28yo Tasting Pack and a new Springbank 8yo, matured in fresh oloroso casks and bottled at cask strength. These products are exclusive to society members.
The Tasting pack includes four drams of different 28yo Springbanks which will be presented in a live online tasting on 2nd July 2021. The next society bottling will be picked from one of these samples.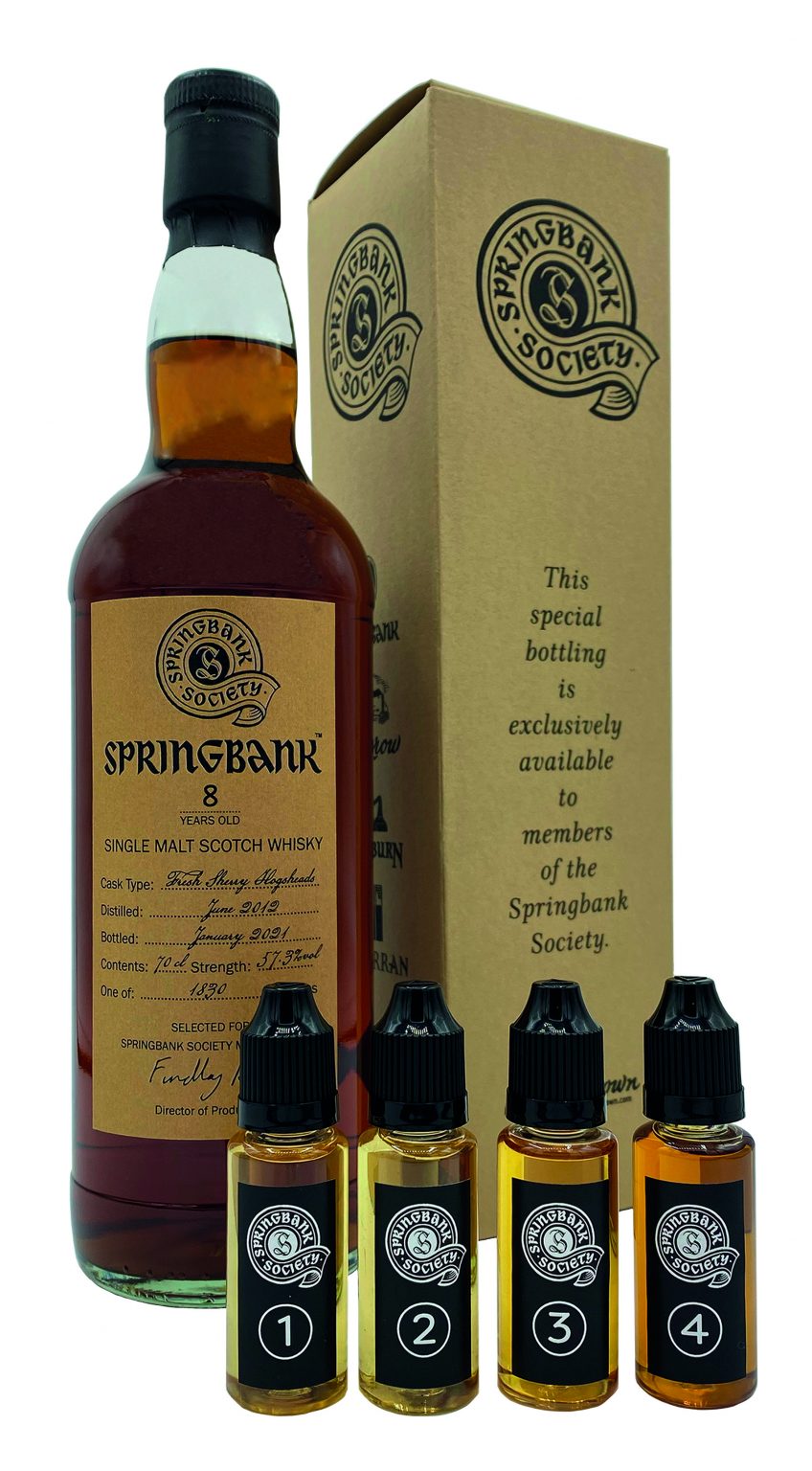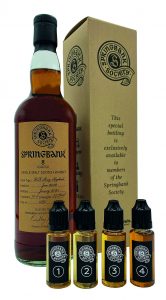 Opens: Monday 7th June 12pm BST
Closes: Tuesday 8th June 12pm BST
Successful entrants notified: Tuesday 8th June
1 x 28yo Springbank Tasting Pack (4x2cl)
1x Springbank 8yo 57.3% (70cl)
£90.00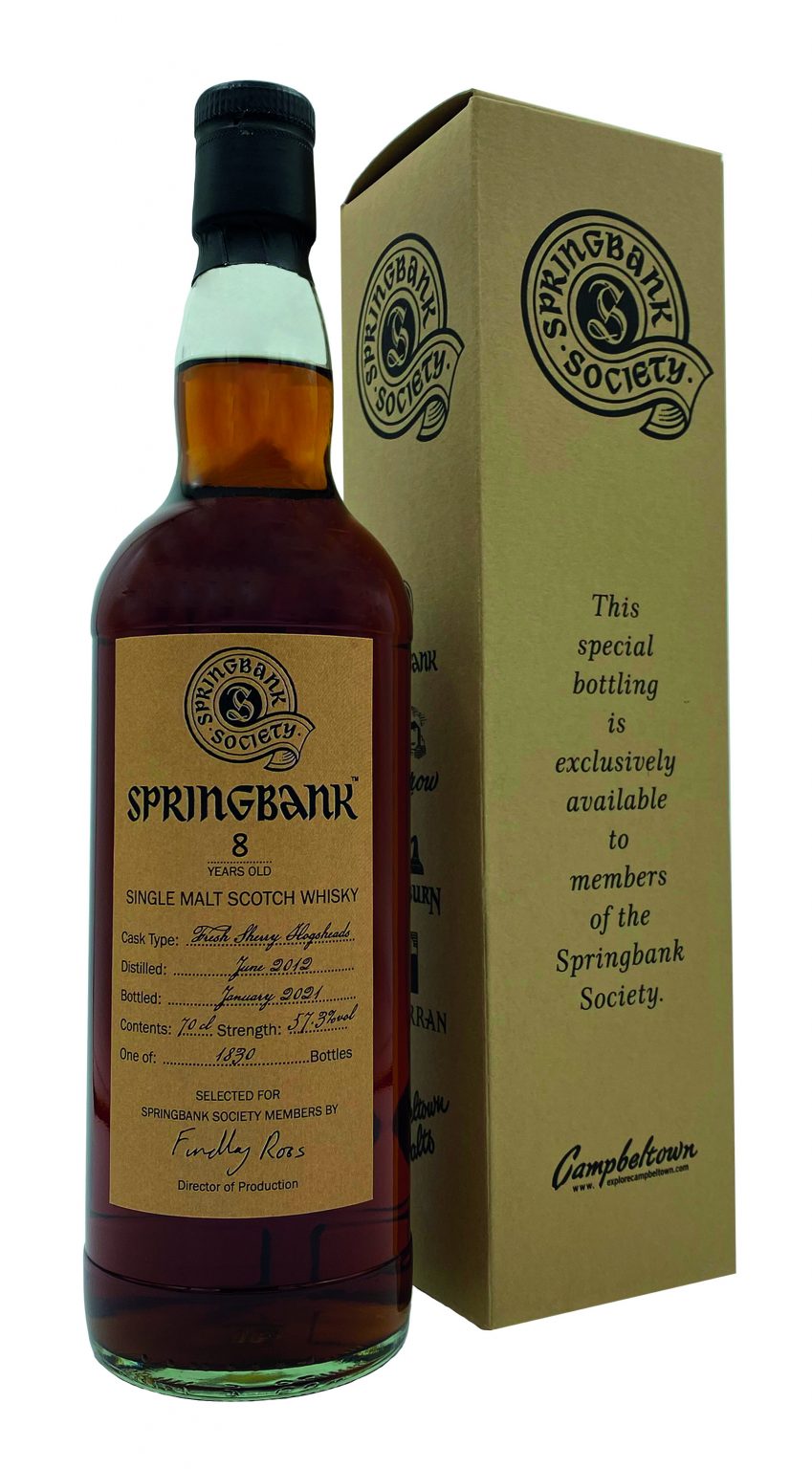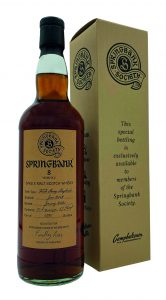 Opens: Tuesday 8th June 2pm BST
Closes: Wednesday 9th June 2pm BST
Successful entrants notified: Wednesday 9th June
1 x Springbank 8yo
57.3% (70cl)
£55.00
It is not possible to enter a ballot for the tasting pack only.
How the ballot will run
Two separate ballots will be run on the 7th and 8th of June. If you are not successful in the first ballot you may enter the second.
On entry of the ballot, you will follow the standard checkout process and prepayment will be taken from your card for both the product and the shipping to your address. The funds will initially be held on your card. All winning entries will be notified via email and payment taken automatically from the card used for guarantee.
The ballot process for Canadian members will run separately. If you are based in Canada, please do not enter this ballot.
Prepayment
Prepayment conditions vary depending on your bank. It can take up to 7 days for your bank to release our payment hold back to you.
We will release your funds if you have been unsuccessful as a ballot winner but we cannot control the timing of funds being made available to you. If you have concerns about this, please contact your bank for clarity.
If we have a problem taking payment from you for whatever reason, we'll make 2 attempts to contact you via email to resolve the situation, if we cannot resolve this we will release your preorder to someone else.
Shipping & Customs
As all of our deliveries are made from Springbank Distillers Ltd in Campbeltown this can add a little extra time for delivery but we still expect all deliveries to be made within 5 to 10 days from dispatch.
Although we do ship to many countries worldwide there are also many that we are not able to send to. We will not honour any orders to countries that we do not ship to. Click here to view the list of eligible countries.
All products sold on our website are subject to UK taxes, if we are sending to an address within the United Kingdom prices are subject to Value Added Tax (VAT). Any shipment outside of the UK will not be subject to VAT however you may be liable for local taxes and duties upon your orders' arrival in your country. It is the responsibility of each customer to be aware of their local import regulations prior to placing an order on our website.
Also, as mentioned in our Terms and Conditions, we will not deliver any orders to one of our Cadenhead shops, nor are we able to arrange any combined shipping for online orders or with purchases from any of our Cadenhead shops.