Longrow
Named after another lost distillery of Campbeltown (which once operated right next door to Springbank and whose warehouse now houses our bottling hall), Longrow was first produced in 1973 to provide a peaty, oily and robust component to a blend being created at the time. More heavily peated and double distilled, it has been a staple in the production calendar since the 1990s.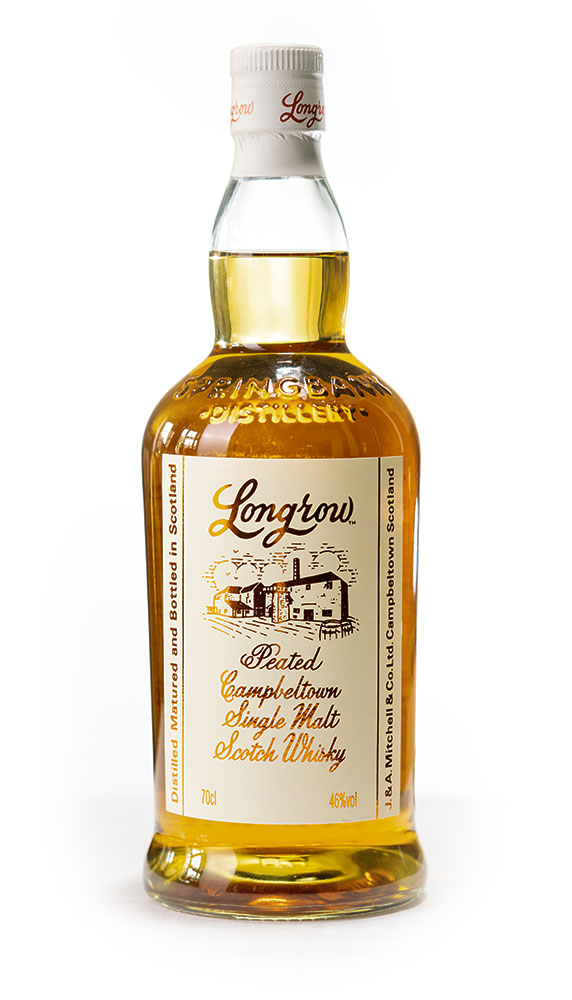 Longrow Peated
Longrow Peated offers those who enjoy a heavily peated whisky the chance to enjoy a lingering, smoky taste that travels through the senses like the smoke billows from a kiln.
46% ABV
Matured in Bourbon and Sherry Casks
Nose
Very creamy, vanilla custard. The smoke develops gradually, rather than overpowering the other aromas present. Toasted marshmallows, herbs and rich fruits appear over time.
Palate
Incredibly well balanced; rich and creamy with a slight medicinal hint. The smoke is always present, washing over the palate in waves, like the soft billows of smoke from the Kiln.
Finish
The gentle smoke lingers and lingers leaving you yearning for more.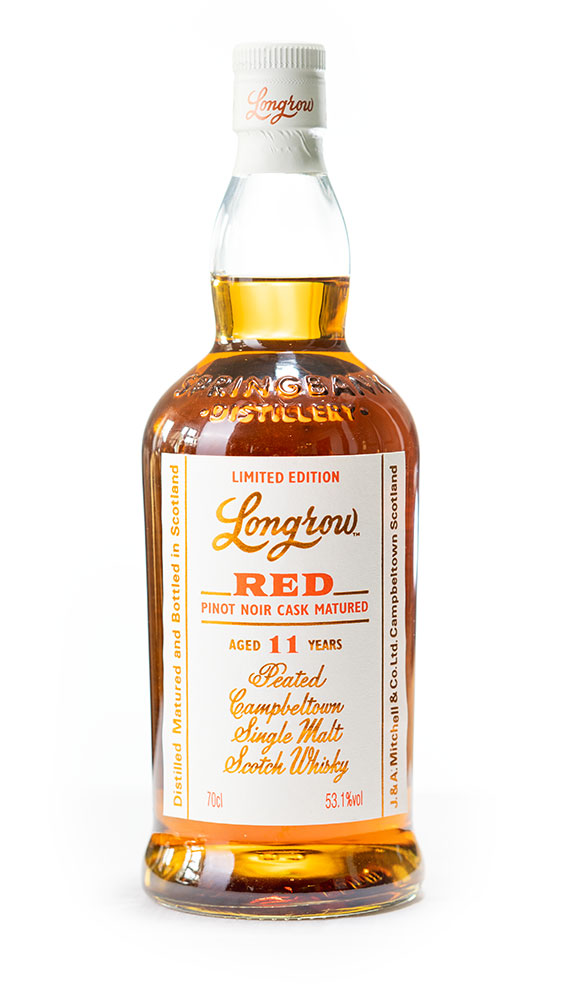 Longrow Red
Our Longrow Red, always bottled at cask strength, is released annually in small quantities and every year a different type of red wine cask is used to mature the whisky. Offering a different sensation from Longrow Peated, this whisky is smooth, elegant and subtly juicy.
The latest edition has been matured for 11 years in Bourbon barrels followed by 4 years in fresh Pinot Noir barriques from the Grant Taylor Valli Vineyards in Central Otago, New Zealand.
51.4% ABV
Double Matured in Bourbon then Red Wine Casks
9,400 Bottles Worldwide
Nose
Creamy and fruity on the nose, with notes of custard, bramble jelly, red apples and cherries. The Longrow character presents itself in smoky embers, along with hints of toffee and butterscotch.
Palate:
The smokiness continues on the palate and tannin flavours develop, balanced with sweet confectionary, cranberry and raspberry in this smooth, delicate malt.
Finish:
With briny, maritime elements and the persistence of the smoky embers, the Campbeltown influence is particularly apparent in the finish.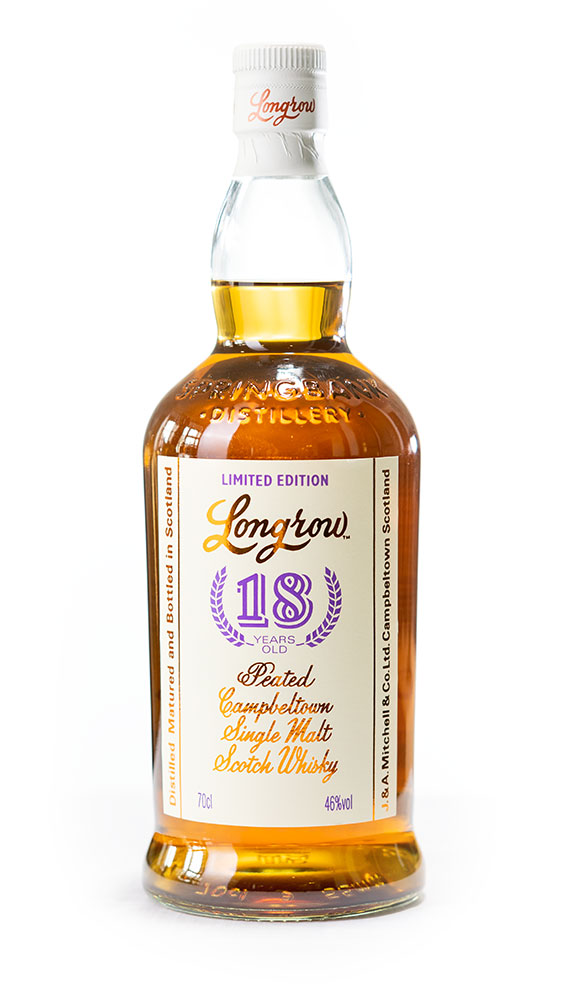 Longrow 18
2022 Edition
This fully Sherry matured release of the Longrow 18 Year Old combines sweet, honey notes with an earthy peat influence reminiscent of dunnage warehouses.
46% ABV
100% Sherry
Nose:
Notes of sweet barbequed pork and leather bound books kick off this dram. There is an earthy note hinting toward the peat influence, along with notes of nectarine and menthol.
Palate:
The sweetness continues on the palate in notes of honey, butterscotch and parma violets. Hints of orange peel complement the subtle peat influence.
Finish:
The earthy element carries through to the finish, along with notes of tobacco leaf.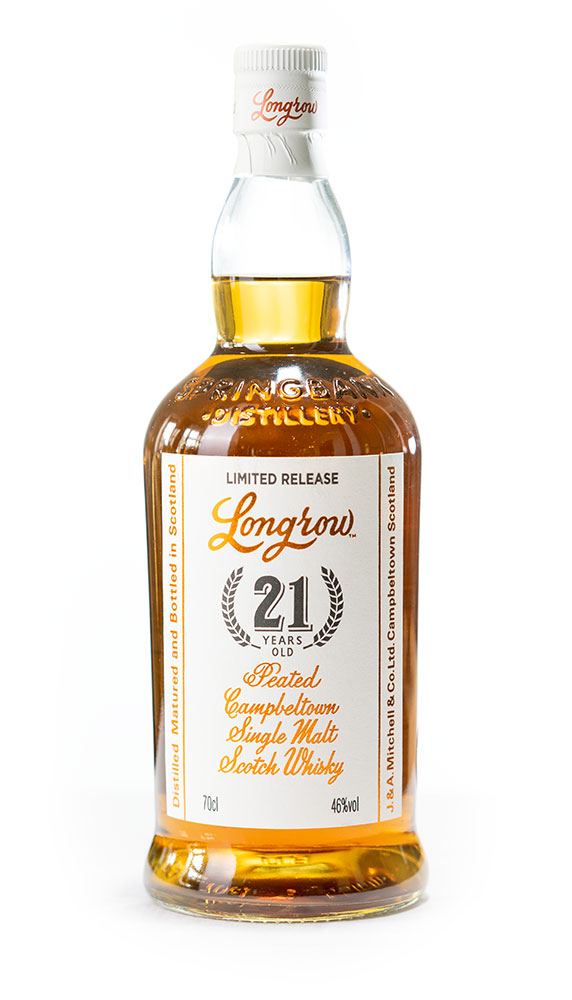 Longrow 21
2020 Edition
A recent addition to the Longrow range, the 21 year old is a limited annual release. The predominant sherry maturation of our most recent release complements the smoky character.
46% ABV
95% Sherry, 5% Bourbon
3,600 Bottles Worldwide
Nose
A complex nose: Sweet fruits, citrus, peaches and orange zest at first before a gentle earthy peaty aroma reveals itself.
Palate
Rich and very, very tasty. Well balanced. Dark chocolate, creamy coffee and gingerbread to the fore, followed by rhubarb and vanilla custard.
Finish
Long and sweet, a hint of typical Longrow peat smoke combined with more chocolate and some dried fruits.